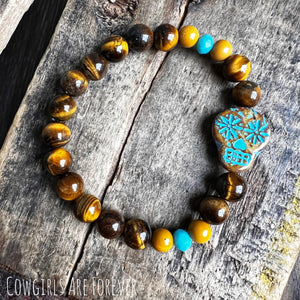 Sugar Skull with Tiger's Eye, Mookiate and Crystal Beads
Stretches to fit up to 7 1/4".
Mookaite is a nurturing stone that supports and sustains during times of stress. It brings peace and a feeling of wholeness. Mookaite helps us with decision making, especially when we are having a difficult time.
Tiger's Eye is commonly a metamorphic rock that comes in shades of reddish brown with iron stripes. The meaning of Tigers Eye is self-confidence and inner strength.