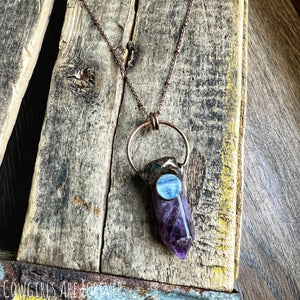 Amethyst Crystal Quartz Point Pendant with Blue Kyanite In the center.
Chain measures 18".
Amethyst viewed as a stone of peace, some believe amethyst's calming presence produces soothing dreams by bringing the dreamer more in tune with the Divine. This clarity and peacefulness also extends to the waking mind. Amethysts are said to help the mind flow freely in both mental and metaphysical dimensions.

Blue kyanite is a beneficial stone when it comes to spirituality, communication, and self-expression. It can help you speak your truth, feel more peaceful, and connect to a higher consciousness. It's especially connected to the throat chakra.