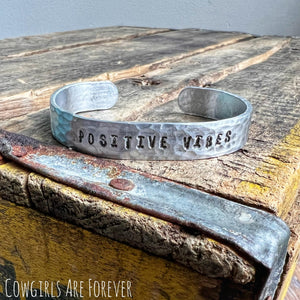 Aluminum Adjustable cuffs fit most wrist sizes. 3/8" Thick.
Hand-Stamping: Each letter on the jewelry is individually stamped. No two pieces will come out the same, nor will each letter be perfectly straight. This is not to be seen as a defect, but rather add to the charm of the piece!
Lightweight, made from the highest quality commercially pure food safe aluminum. This is pure aluminum and is less reactive to one's skin than sterling silver. Our source uses aluminum from mills only found here in the USA, allowing this cuff to be 100% made in the USA!